We recently had to replace the entertainment center in our camper. After careful consideration and way more web searching than I should have had to do I chose the Jensen JWM60A. It was a perfect fit for the stock radio/DVD player in our Heritage Glen Forest River. The price was good and we even got a few upgrades in the process.
We found this radio/DVD player on Amazon and it ticked all the boxes.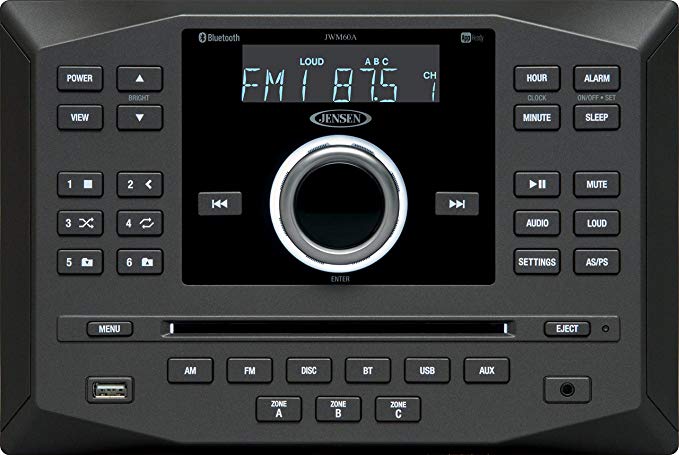 AM/FM Radio
CD/DVD player
USB
Blue Tooth
A/V Out and Audio In
In addition there's a free app that I was able to download that allows me to control all aspects of the entertainment center from my phone. I no longer need to rely on the remote that accompanies the radio (and it's small size that means keeping readers near by) for changing functions, start/stop, pause, etc.
I can pull up all the functions of the entertainment center from my easy chair or from outside the camper. I can pair my phone to the radio and play my MP3's through blue tooth to the outside speakers. I can create playlists for that perfect evening mix and my friends can pair their phones as well!
Installation is a breeze. The unit detaches with two screws. I did have to connect the three speaker zones to the connector that was provided with the new unit but everything was clearly marked and easy to follow. Since I had the unit out of the cabinet I took that opportunity to solve an issue that had me scratching my head for quite some time.
I was able to connect the audio out from the TV and route it into the entertainment center so I could enjoy surround sound no matter what I was watching. To do so I replaced the existing wall plate that had 3 RCA jacks with one that had 5 RCA jacks. This allowed me to still have the A/V out from the CD/DVD player route into the TV and have the audio out from the TV route into the back of the entertainment center.